Since 2015, it has been very challenging and almost impossible to reach Socotra Island. The reopening of Yemenia Airlines flights from Cairo to Socotra was announced in late 2018.
The direct flight between Dubai and Socotra would once more be operated by Felix Airways in early 2021. A few weeks later, in March 2021, Air Arabia was going to start operating flights between Abu Dhabi and Socotra. You may find information on both flight routes in this article.
The Weekly Yemenia Flight Out of Cairo
From Cairo, Egypt, a flight travels to Aden, Yemen, and then to Socotra Island. One thing to keep in mind is that this route needs a permit from the Yemeni Ministry of Interior, which isn't the easiest thing to get. Your local tour operator should be able to secure this for you a few weeks before your trip, though.
From Abu Dhabi, the Air Arabia flight
In March 2021 it was announced that Air Arabia would begin flying an Abu Dhabi-Socotra route. this is now following the short-lived Felix Airways Dubai-Seiyun-Socotra route that was shut down as of February 16, 2021.
How To Book The Air Arabia Flight
The flight cannot be booked online.
Booking your ticket through your Socotri tour operator from the Air Arabia office in Hadiboh is easier. However, you can directly contact an Air Arabia office in the United Arab Emirates to make these arrangements.
To book a flight, a Yemeni visa is required.
A copy of your Yemeni visa and invitation letter (provided by the tour operator), along with a copy of your passport must be provided to Air Arabia at the time of booking. If booking a ticket yourself you can pay for the ticket by wire transfer. Once the ticket is booked Air Arabia will issue the ticket in your name and you'll have a copy of it.
How To Book The Yemenia Flight
You cannot book the flight online.
Booking the ticket must be done through the Yemenia office in Cairo. You can either handle this yourself or allow an agency that is specialized to handle it for you.
Tickets can only be purchased in cash or via bank wire.
You need permission from the Yemeni Ministry of Interior in order to use this flight as it routes through Aden.
A copy of your Yemeni visa and invitation letter (provided by the tour operator), along with a copy of your passport must be provided to Yemenia at the time of booking. Once the ticket is booked Yemenia will issue the ticket in your name and you'll be given an e-ticket number that you will use when checking in at Cairo International Airport.
Abu Dhabi Airport Information
The UAE is now open to tourists, and travelers who have received all recommended vaccinations are no longer required to stay in quarantine in the Emirate of Abu Dhabi. You must register your immunization information with ICA Smart Services if you have received any vaccinations.
In order to enter the UAE (most likely through Abu Dhabi or Dubai), you may need to present a negative PCR test taken no longer than 72 hours prior to arrival (up to 96 hours in some cases) depending on your nationality.
If you are traveling into or out of Dubai, Air Arabia can help you get from there to Abu Dhabi.
You'll need the following to check for Air Arabia flight:
A printed copy of your Air Arabia e-ticket.
Your valid passport.
A printed copy of your Yemeni visa approval.
Cairo Airport Information
Terminal 1 of Cairo International Airport is the departure point for Yemenia's route to Socotra. The check-in line keeps moving since most of the passengers on this trip are Yemeni citizens who are bringing a lot of luggage and other items with them, and there is a lot of security at this airport in particular.
Most visitors who have had vaccinations can now enter Egypt without having a PCR test (as of March 2022), however I would advise watching this carefully as your trip draws closer as pandemic entry limits can change with little to no notice. You may need to show a negative PCR test depending on where you might transit en route and where you'll be arriving from. If a PCR is required for entry into Egypt, it must be taken no later than 72 hours before the trip. PCR testing and immunization records ought to have QR codes.
Information About The Yemenia Stopover In Aden
As to 2022, this trip made a brief stay in Seiyun before continuing on to Socotra, but starting in that year, it lands in Aden instead, with the Socotra flight departing the next morning. For the duration of the stay, you will remain on airport property.
You will need to collect your checked luggage in Aden. You will then take it and exit the arrivals hall. There is seating outside where you can wait if you'd like to hang around outside before entering the departure hall. There are also a couple small kiosks selling shai (tea) and snacks outside near the seating area.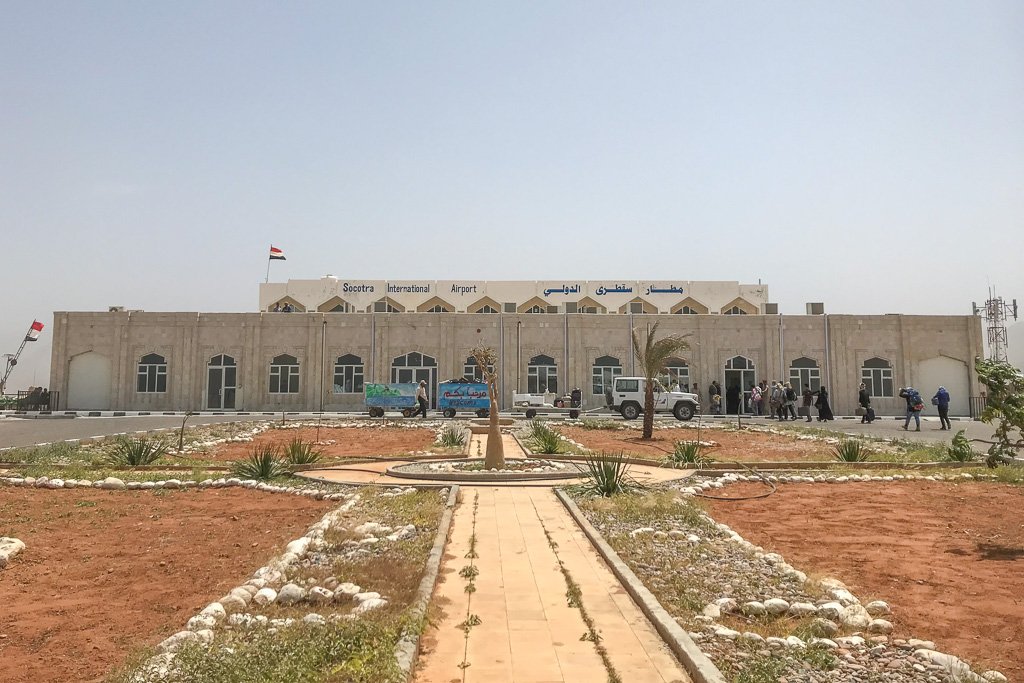 Arrival In Socotra From Cairo/Aden
It takes around three hours to fly from Aden to Socotra. When you land in Socotra, you will exit the plane via the stairs, cross the runway, and enter the arrivals area.