7 Days Itinerary
7 Days Tour in Socotra
A ONCE-IN-A-LIFETIME ADVENTURE.
Become one of the first intrepid travelers to visit Socotra Island. The island has always been difficult to reach, especially in the past years where it has been isolated from the rest of the world due to the Yemeni civil war, however, Socotra is very safe and it has not been affected by the dynamics of the mainland.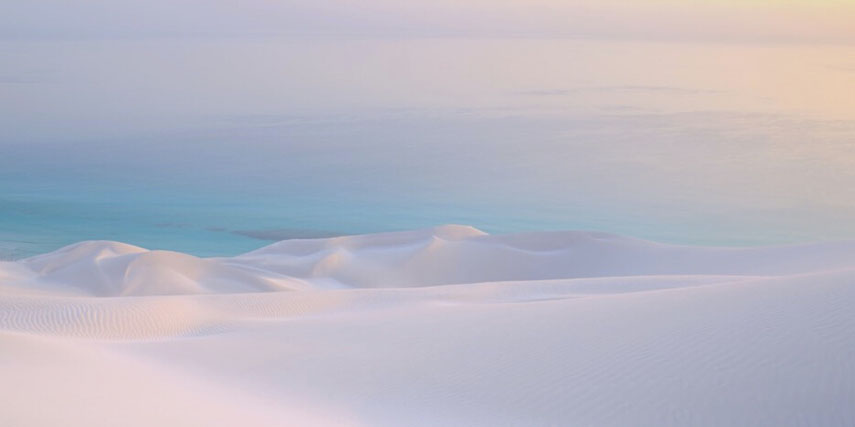 AOMAK WHITE SAND DUNES
Day 1 As soon as you touch down and set foot on the majestic island of Socotra, our local team will greet you and start your journey through this wonderland. The first stop is Aomak, a paradise white beach surrounded by turquoise water and humongous white sand dunes. After lunch we visit the Socotri villages that are scattered around the southern plain before reaching Dagub Cave. This cave has some very interesting rock formations, and it has long been used by villagers for ritual purposes and to shelter their cattle in the monsoon season. Following our visit to the cave, we head back to Aomak Beach to enjoy a hike to the highest peak of the surrounding white dunes for an unforgettable sunset view. This is probably one of the most beautiful dunes view you will ever see.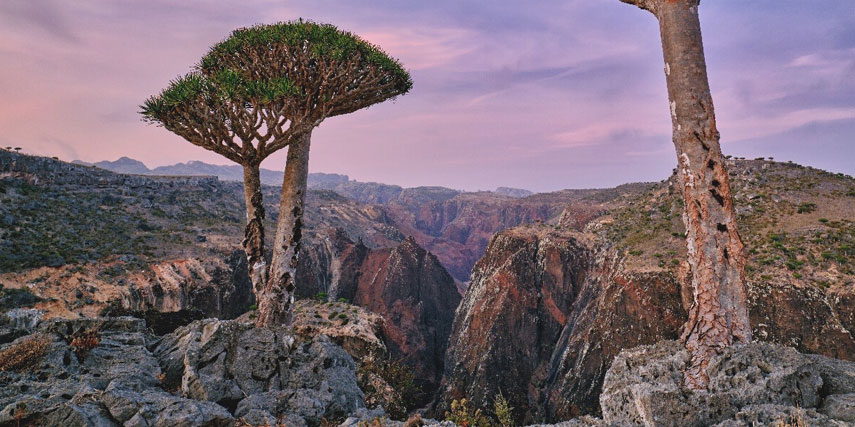 DIKSAM DRAGON BLOOD & CANYON
Day 2 begins with a drive to Diksam Canyon to see the famous "Dragon Blood Trees " (Dracaena Cinnabari). While the powers of these unique trees have yet to be fully explored, Dragon Blood trees are a wonderful endemic species that secrete a blood like looking crystal powder that ancient locals have used for its miraculous properties. The mountain range presents a beautiful panoramic view over the Diksam Canyon, where the hills are filled with Dragon Blood trees to admire and photograph. We will then have a picnic under the trees and descend into Wadi Dirhur to explore a variety of freshwater pools surrounded by a huge granite rock formation. We will camp and dine in a guest house equipped with a washroom and shower.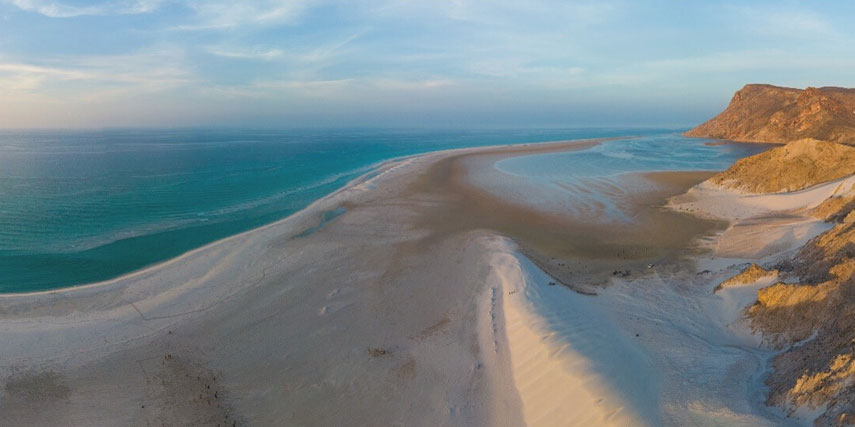 QALANSIYA - DETWAH LAGOON
Day 3 We head west to relax in paradise at Detwah Lagoon, a protected area situated between the Arabian Sea and the Indian Ocean that holds one of the most beautiful beaches on the planet. Discover endemic species on a sea bed that can only be describes as magical, watch the water retract unveiling a variety of sea life on shores of this turquoise lagoon. Nearby is the village of Qalansiya, the second largest settlement of Socotra, lies at the north/west tip of the island. Discover the island's cultural beauty and indulge with friendly locals & children for an authentic experience. In the afternoon we'll make a hike to the highest peak for the best sunset view on the island. We end our evening with dinner and overnight camping at Detwah Lagoon.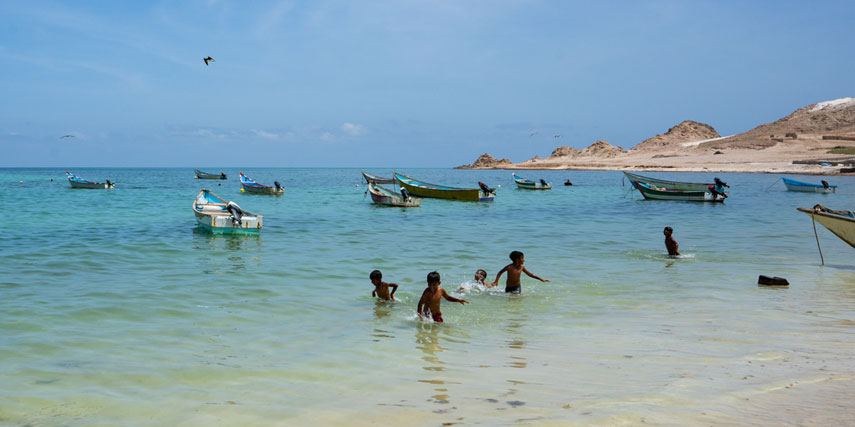 SHOAB BEACH/DOLPHINS & CORAL REEF AT DIHAMRI
Day 4 We head out to Qalansiya port, we will cruise with one of these authentic boats for a tour along the cliffs of the western coast towards the beach of Shoab, home of spinner dolphins, you will have a unique chance to swim & see the spinner dolphins. We will set ashore in this remote and pristine beach that is one of the world best beaches. We then head back for lunch to Detwa. After Lunch, we will make our way to the Dihamri marine protected coral reserve. In this idyllic location, you can snorkel and explore this magical coral reef or you can go fishing with the local fisherman and lend a hand at catching fish for our dinner. We will set up camp at Dihamri beach and spend another night under the beautiful stars.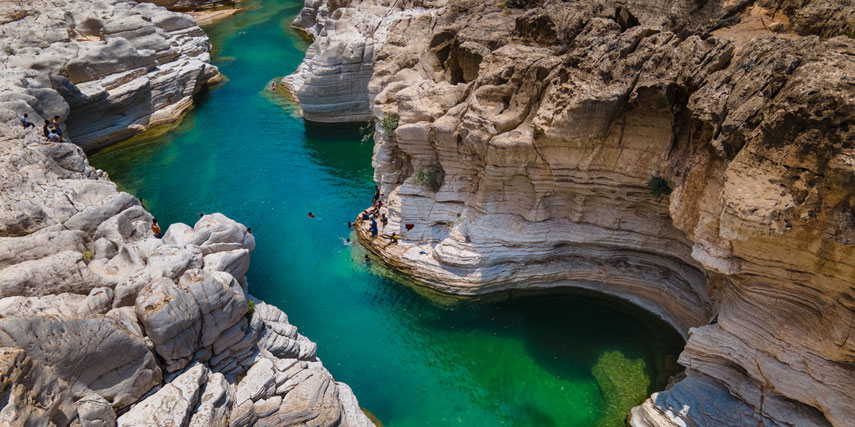 KLISSAN RIVER & ARHER TWIN WHITE DUNES
Day 5 Klissan river is located 20-30 minutes downhill. It is a breath taking nature creation of pure water surrounded by carved rocks, it is the perfect gateway for a swim, rock climbing and jumping. We will have lunch on the rock and then head back and drive to Arher, where a breath taking beach awaits. Located on the eastern side of the Island, the beach is surrounded by twin White Dunes where water flows right out from a cave. We will setup camp near the beach, sit back to enjoy a relaxing evening with dinner under the stars.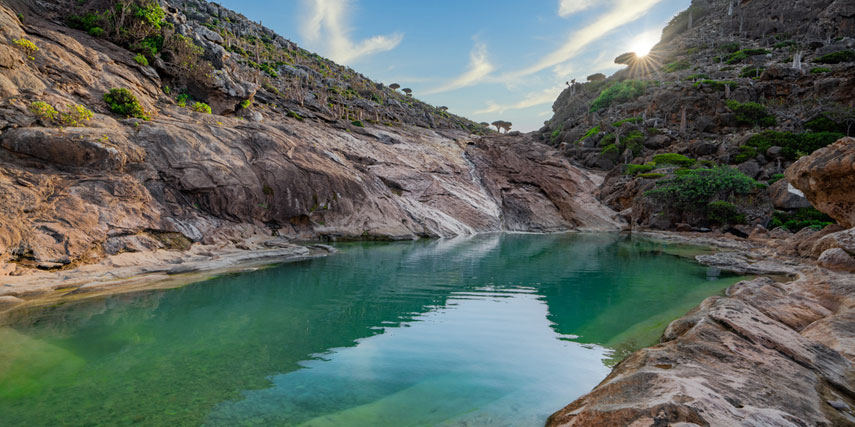 HOMHIL NATURAL POOL
Day 6 We head to wadi Al Shefa and trek up to Homhil, this is where you will see a unique combination of dragon blood trees, bottle trees and other varieties of endemic species. We'll take a short walk down the valley by following the carved rocks through a unique water path that ends with a natural infinity pool. Enjoy cooling off in this paradise pool while taking in views over the turquoise sea. In the afternoon we head back to Arher for dinner and camp.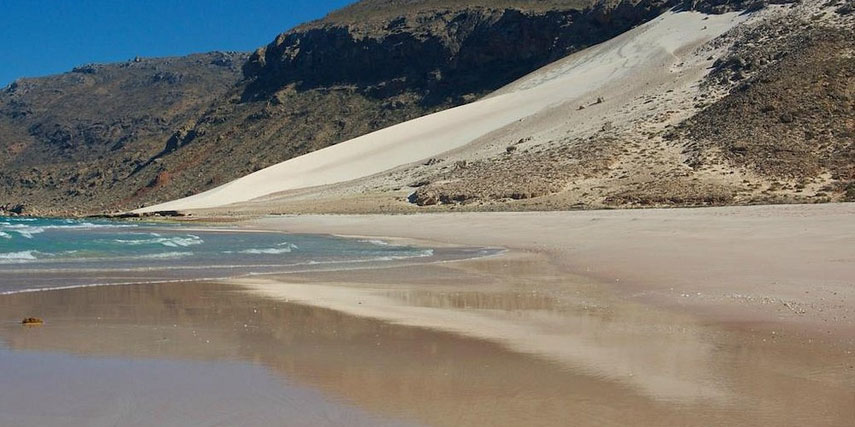 HADIBO - DELISHA
Day 7 We head to the capital Hadibo to perform the PCR test required for the fligh back (regulation might differ at the time of travel) and then visit the city main streets, fish market, and Souk. After Lunch in the city restaurant we head to Delisha lagoon, known for it's long sand beach were you can enjoy one last swim and relaxing evening. We will set camp on the shore just next to the water.